News
NCN to Broadcast Daily Morning Mass Statewide
COLUMBUS - Despite unprecedented times, Nebraskans will still be able to worship. Starting Thursday, March 19th, News Channel Nebraska will be broadcasting and streaming morning mass from St. Isidore's Catholic Church in Columbus, NE. While churches acros
Tuesday, March 17th 2020, 3:54 PM CDT
HOW TO WATCH MASS - EVERYDAY - 8:10 AM: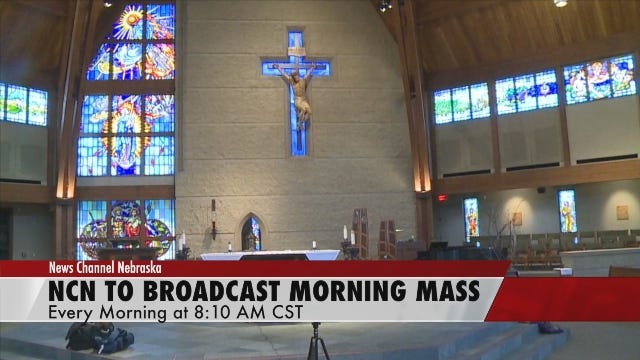 COLUMBUS - Despite unprecedented circumstances, Nebraskans will still be able to worship.
Starting Thursday, March 19th, News Channel Nebraska will be broadcasting and streaming morning mass from St. Isidore's Catholic Church in Columbus, NE.
While churches across the state have been forced to close their doors for services, in an attempt to stop the spread of COVID-19, Father Joe Miksch says it's important that Nebraskans still have the opportunity to hear God's word.
"Through this effort we can be psychologically present to Jesus, and can receive him in our hearts spiritually if we can't be physically present to receive him."
"Obviously these are different times. There's a lot of people that find themselves in nursing homes, assisted living centers, quarantined at home," News Channel Nebraska Owner Mike Flood added. "A lot of folks that aren't able to interact with others on any level because of the risk factors that they have. Providing this service and broadcasting these masses over News Channel Nebraska will allow us another way to connect with people and share with them something we know is important to so many."
While this is a time of great concern and worry for many, Father Joe says lessons can also be learned from the current situation.
"It's going to be a difficult time for all of us, but maybe also a good time to make us realize how blessed we have been all of these years," Miksch added. "We take so many things for granted so this might be an awakening call, and call us all to a closer relationship to God and our faith."
The daily services will be broadcast live on NCN TV and streamed online at NewsChannelNebraska.com each morning starting at 8:10 AM CST.
The effort couldn't have been possible without the anonymous donation of a parishioner who contacted NCN saying they wanted "the Holy Spirit to come alive through Father Joe to reach all Nebraskans."
In addition, News Channel Nebraska will be airing services from other denominations on Sundays.